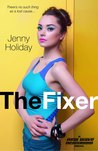 The Fixer
by
Jenny Holiday
ebook, 110 pages
Expected Publication:
September 13th 2016
Review Copy:
Provided by NetGalley
Pre-Order:
Amazon
Description From Goodreads:
Jenny Fields is a crusader. The editor of her college newspaper, she never met a cause she couldn't get behind. So when the administration announces it's tearing down the historic art building, she's on the case All she needs to do is get Matthew Townsend, the art department's boy wonder, on board. They say he his talent is unbounded. It turns out so is his ego.
Matthew Townsend cares about art. And that's pretty much it. If he has a reputation for being moody and aloof, that suits him just fine. He doesn't have a family worth speaking of, and as a scholarship student, he can't afford to goof off like the preppy rich kids at his school. He certainly doesn't care about the art building. Or about the relentlessly perky Jenny, who looks like she was barfed up by Rainbow Brite. What will it take to the preternaturally cheerful girl with the massive savior complex to leave him alone?
My Review:
My rating:
4 of 5 stars
This book. It was such a fun read.
To be honest, when I requested this book on NetGalley, I did so mainly due to the cover. It was striking and bright, and a far cry from most book covers we see with most New Adult titles these days. And that's entirely fitting given that this book manages to stand out on its own in the ever-growing genre.
It's not easy to craft such a light-hearted read that also manages to pack such an emotional punch, and yet, Holiday does just that in less than 150 pages. Even more impressive? The sheer amount of character growth we see in both Jenny and Matthew by the end of the novella. My one complaint, and the only reason the story isn't getting a five-star rating from me? Instead of including the epilogue in the actual book, you have to register for a newsletter to read it.
If you haven't already, be sure to add Holiday's New Wave Newsroom series to your to-read list.
View all my reviews